Bluelight new production — Intelligent Card Management System
19-04-2019
Type:BL2000-CICI-V4.1-TF
In elevator Intelligent Card Management System, elevator IC card system is composed of signal receiver and control board, which is usually installed in the inside control box of the car.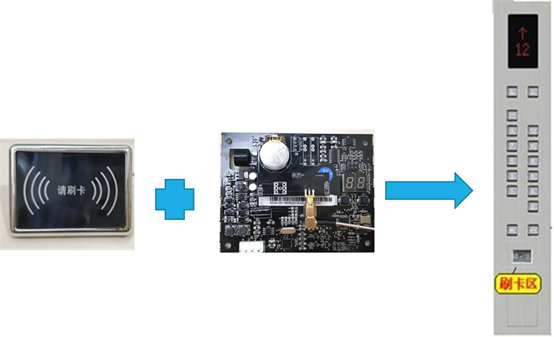 In conventional IC card control system, signal receiver and control board is in one.
This leads to that when the IC card system is installed, in order to avoid the signal shielding caused by the metal shell of the control panel, a piece of area must be cut out on the control panel for installing the IC card control system device, and then cover it outside, which leads to a large destruction range and tedious operation.
Bluelight Intelligent Card Management System
Function and method of use are still the same with the conventional one. The difference is the change in the structure. The card reader antenna from the original one - piece to detachable .The card reader antenna is led out by 1 meter long radio-frequency wire. When installing, it only needs to be tightened through nuts in the opening of the outer wall of the control box, which is convenient to install and elegant in appearance.
Features
1. Different IC card class levels authorize users'accessibility to different floors.
2. Visitor recognize function.
3. Supports non-contact read/write, makes the IC card more reliable to use.
4. Supports working time and times setting to achieve whole building control or only selected floors control.
5. Manages IC card issuance, lost report, deregis-tration and authorization.
6. Inquires of IC card issuance information, payment history and usage records.
7. Compatible with door access control card. One card with multiply function.